I had a VariLite laser treatment this week at the Cosmetic Enhancement Center of New England to treat my facial veins. And as I lay twiddling my toes and breathing thru the mild burn, I mused on how long I have had the purple and red lines and from whence they came…. Nose veins and rosacea run in my family, as does fair skin that burns easily. I started getting my redness as soon as I hit the ski slopes with my Dad, and continued to insidiously develop them throughout my twenties. As my eyes watered and Dr. Ollila erased my venous congestion, I thought about how Chinese Medicine correlates the areas being treated with the stomach and large intestine, and my own struggles with digestion. And I promised myself that because I have the good fortune to be able to eliminate these physical signs of my own genetic faults and dietary excess, I will do what I can to prevent this same congestion, stagnation and dis-ease from developing again.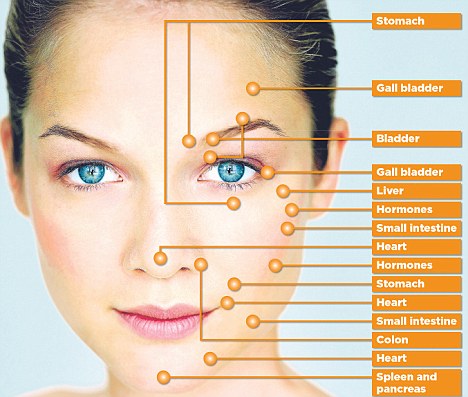 Traditional Chinese Medicine maps the body with meridians or channels that carry the energy of each organ along the arms and legs. Many of the meridians also run on the face. Areas of physical imbalance in specific areas reflect deeper organ health issues. In my case, the large intestine area at the side of the nose was an obvious place of congestion, reflecting a chronic issue of constipation that was finally resolved in my thirties when I identified and removed food allergies.
The stomach area near my mouth also had faint signs of congestion and stagnation. This area is less of an obvious problem for me – I have a so called "iron stomach." On the other hand, I do worry. And the stomach is one of our primary organs that is effected by stress, anxiety and rumination. From a mind-body perspective, it makes sense that my stomach area would show signs of strain after years of academia, life's lessons,  and all the personal stresses that happen. Removing the veins will not remove the underlying strain I put on myself, but I can (and will)  do more to improve my stress management and coping skills to prevent them from resurfacing.
Beauty medicine is a valuable component of modern medicine. With healthy living, exercise and great nutrition, many people's biological age is younger than their chronological age.  Cosmetic treatments allow us to defy our years and erase the physical evidence of our earlier mistakes. However, it is important to delve deeper and work beyond the superficial level. I am grateful for the opportunity to diminish the signs of aging and look as young as I feel inside. I am also more aware now that I am older (and wiser) to include nutrition strategies like daily fiber ( raw vegetables, ground flax seeds) and probiotics to maintain long term large intestine health.  (For some people,  deeper digestive issues will need to be resolve before a simple maintenance regime is enough.) Stress insists on wreaking its havoc on my face, so I can find better ways to metabolize stress or wear the consequences!  And, of course I will also be aware of the critical damage that sun, wind and cold can have on the sensitive visage – only mad dogs and Englishmen go out in the noon day sun!
If you are interested in beauty medicine, contact The Cosmetic Enhancement Center of New England at http://www.cecofne.com/.
To find out more about how Integrative Medicine can complement your treatments for long term effects and internal wellness  call 207-774-1356 to book an appointment today.
Are you on social media?
FACEBOOK: www.facebook.com/thewrightdoctor, www.facebook.com/agemanagementcenterTwitter: @thewrightdoctor
For more information on Dr. Wrights clinical practice see: www.agemanagementcenter.com
Dr. Wrights website: www.thewrightdoctor.com