tabula rasa – the latin term for "erased slate" referring to the emptiness of a slate sheet that was previously written on by chalk.
 To start the New Year with a fresh clean slate we need to erase the old clutter from our internal metabolic "chalk board", which means DETOXIFICATION.
Why detoxify? Intermediate metabolites build up like desk clutter from all of the work that our liver has to do to break down hormones, pesticides, pollution, cholesterol, medications, bacteria, viruses, alcohol, caffeine, and everything else that we inhale or ingest. Symptoms of this "clutter" include allergies, skin disorders, constipation or diarrhea, heartburn, irritability, fuzzy thinking, headaches, low energy, fatigue and many more low grade but uncomfortable signs of poor health.
I do not believe in crazy diets, water  fasting, purges, enemas, or other "heroic" efforts. An effective detoxification process can be simple, inexpensive, easy to accomplish and leave you feeling fresh, renewed and in many cases with less weight! The focus is on fresh, whole foods, clean water, daily smoothies and supplements to improve liver detoxification.
I will be offering an all-inclusive program for one week in January – The tentative dates are January 10-17, 2015. One week is enough time to begin the detoxification process in the liver, but not so much time as to interrupt our busy lives. This program will be a group event, with individual introductory sessions to troubleshoot potential obstacles during the detoxification process.  This program will consist of:
A 30 minute detox interview and consultation to assess your personal needs. (The interview can be bypassed for Dr. Wright's current patients.)
A 60 minute group meeting to introduce the program, review the basics of detoxification, and get you ready to start!
One week of detoxification with daily email support and a Facebook group for recipe sharing, troubleshooting and cheerleading.
A 30 minute group program review at the end to assess the effects, with suggestions on supplements and lifestyle options to maintain the beneficial effects of the detox.
Some people may choose to repeat the detox cycle for 1-3 more weeks in order to really delve into metabolic restoration; however this is an independent option.
Call Age Management Center today at 207-774-1356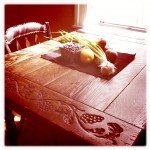 or email Dr. Wright at thewrightnd@gmail.com and find out how our New Years Metabolic Detox program can help improve focus, increase energy, decrease allergies and enhance metabolic balance.
Cost: $250 inclusive, prepaid new patients or those needing individualized 30 minute support session.
Cost breakdown: 30 minute consultation: $75, Core Restore Detox Kit $100, 60 minute initial group consultation $50, 30 minute review session $25. Administration, daily emails during the detox program, Facebook group monitoring and detox troubleshooting included.
Current patient & friend/family rate: $175. (Does not include the 30 minute individual consultation.)
Some patients may choose additional Integrative Medicine consultations for more personalized care; individuals who choose to become patients of Dr. Wright's during or after the program will have $75 taken off her initial consultation fee.