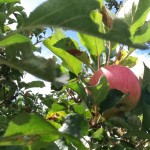 Apples are in season again, so it must be time to go back to school. This year, I will be the one in front of the classroom! This is completely new for me, and I have been anxiously preparing mentally (and literally) for most of the summer. Academics are an important part of a doctors CV, and an area that I have studiously avoided in my career thus far. But when Corinne Martin at University of Southern Maine Nursing School contacted me about the program she has been developing as a holistic health minor for USM the fear was less than the excitement. I am honored to be teaching CON 284 Botanical Therapies for the fall semester. The course is an introductory level exploration some of the issues that surround medicinal plant use including historical dynamics, ecological effects and cultural perceptions of herbs. I will also be teaching practical clinical use of commonly used botanicals. We have guest speakers coming in, a practical how-to workshop on medicinal preparations, and a diverse reading list. Plant medicine has been foundational to my practice, and I am grateful for the opportunity to expand my own understanding and become more of a community resource!
I work primarily at the Age Management Center these days, with a strong focus on hormone health. I work with Dr. Michael Bedecs who is a Men's Health expert, and is extremely experienced in hormone replacement. I am grateful to say he has taken me under his wing, and I have found a permanent place for my private practice here in Maine (and beyond.) It took almost two years to find the right work environment and business associate after owning my own clinic for 11 years in Toronto. Stay tuned for new articles on fertility,  perimenopause and transgender/transsexual health care. When working with hormones, it is impossible not to consider trans* health care, as this is a population often dependent on hormone use. Dr. Bedecs and I will continue to merge his extensive knowledge of hormone use with my specific integrative medicine training, community commitment, and health care activism to create a concierge style medical practice to serve all genders equally with cutting edge comprehensive treatment plans.
The other work I have been doing is more personal, learning how to trust my gut. Who is good at this? Tips? Strategies? It is so hard in this mixed modern world for me to be able to sift through the messages that come from outside vs. those that come from inside. What I have learned, is that if the inner messages are not heeded, outside havoc will soon result. Or, an event will occur with a big "I Told You So" tag on it. This is part of my process as a human – what is your process? We all have evolutionary issues that we work though, each as unique as stars. Having good guides – as partners, therapists, teachers, doctors, friends – is key to actually learning from our process and not repeating the same mistakes. I am lucky to have all of the above right now – except a good Dr. That is next on my list!
Thank you for reading through, for listening. My health story is mirrored in my life, and I know all of yours are too. It is the details of life that illustrate the pathways of disease and also those of health. Find yourself a Dr that will listen for the details, and trace paths. Take a new course. Call someone you miss. Step outside your comfort zone and do something professionally that scares you! It is September 2013, the time is ripe!