Well, I bled for 16/30 days in April plus 5 in May. This is not my normal. This is pandemic menses. I don't remember the relationships between cortisol, ovarian function and the reproductive cycle and frankly I haven't had the energy to look it up again. I am also 46, so my ovarian reserves are low and having anovulatory/ short cycles could be the new normal until I get fully into bioidentical hormone replacement land. Still: Why such extended Abnormal Uterine Bleeding (AUB) ? And why this extended pain, expense and moodiness when I am already working long hours, alternating day and night shifts, and having to accept the global panic of COVID?
I have not changed much of my regular hormone regime. I have been taking bioidentical progesterone the second half of my cycle for the past 10ish years. Ovaries start decreasing progesterone production around 35yo often causing worsening PMS, cramps, and shorter lighter cycles. Taking progesterone lengthens my cycle from 21 to 26ish days and really helps with cyclic breast pain, bloating, cravings, PMDD and cramps. I had been on vacation when all this started and had not been taking it consistently 🙁
I also take testosterone as a subQ injection intermittently. It is prescribed as a weekly shot, but I tend to take it only every 2-3 weeks, mostly because I forget. Sometimes I forget to take it for months at a time. Cis female ovaries and adrenals produce small amounts of testosterone throughout the lifetime, and testosterone is the dominant cisfemale hormone of menopause! Endogenous production tends to decrease around age 40 as an average.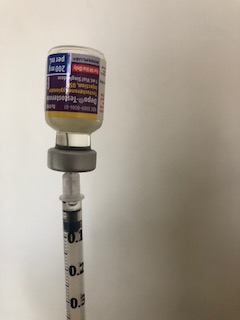 When I was working at Age Management Center, I tested dozens of women's testosterone levels between ages 25-75 and it was extremely common to have very low levels: more common than normal levels! Optimization of this all-gender hormone brings a sense of vitality, physical and mental strength, increased muscle mass, heightened endurance, and improved orgasm strength (or orgasms, maybe for the first time!) It helps me have the energy to get to the gym and enjoy workouts. I also had an improvement in libido and sexual satisfaction. I have been taking this rx more frequently these days as internal medicine is *exhausting* so low T is not at the root of my hormonal shifts.
That leaves estrogen as the possible culprit, and this could certainly be the case.There are 3 different estrogens in the body that can be measured. Estradiol is the major circulating hormone that has all the beneficial effects – elasticizing bone, brain, blood vessels, and skin. Estrone is a metabolite of both testosterone and estradiol through aromatization and is theorized to have more inflammatory and proliferative effects. The ideal Estradiol: Estrone ratio is 2:1in the body. Estriol is the weakest estrogen and is localized to the uterus and vagina. This enhances vaginal lubrication and tissue health. It is also what is typically used for vaginal replacement in menopause or transmasculine health because it has less systemic effects. I am due to go get my hormone levels tested to see of I have had a big shift in estrogen levels. Lab work is ideal when done between days 19-21 of a cycle to catch all 3 hormone levels. I have not had any side effects of low estrogen yet, but as a 46yo, the decrease is coming.
I will likely transition to bioidentical hormone replacement when my ovaries retire fully. Humans used to go into menopause around 50-55 then die around 65. I do not think we were made to live an extra 40-50 years (90 yo) without any gonadal hormones. And as someone who will be in high productivity for many years head working in medicine, I will need these juicy, foundational, resilient, life giving hormones! Plus, I love the feeling of being strong physically, mentally, sexually and emotionally!
What about Breast Cancer you ask? Well, fortunately I do not have the gene that puts me at higher risk. I also eat lots of foods full of plant nutrients, antioxidants, fibers, and phytochemicals and good quality meats and fats. I exercise occasionally, especially out in nature where I can fill my lungs with fresh oxygen. I have a lot of stress in my life, but I do my best to counteract that with affection, loving kindness towards myself, sleep, mindfullness meditation, therapy, strong friendships and sunshine/water/flowers. Estradiol does increase proliferation of breast tissue; bioidentical progesterone counteracts that maintaining a balance of growth and suppression. Testosterone itself is also apoptotic meaning it is anti-cancer/ pro cellular health in nature. For me, in this body, having a well of hormones to draw from as I continue to function in the world is a source of inner vitality that I can give myself, even when my ovaries stop being able to produce it themselves. And, I will probably stop full bHRT after around 15 years, which is what evidence has shown is the time when long term hormone replacement therapy in ciswomen stops being as effective and starts to drift towards harmful. I may even just continue testosterone in those years which has less negative evidence as well as less links to breast pathology.
I have effectively convinced myself this was probably an estradiol dip in ovarian production resulting in a very short cycle partially due to low progesterone followed by an ovulatory but still low estrogen short cycle. Fingers crossed that this is not my new normal. I have also re-upped my commitment to taking my daily thyroid medication as well as adrenal herb supports, because the hormone systems all work in tandem and when one part is dysfunctional, others need to work extra hard. But the adrenal and thyroid systems are a whole other conversation for another day. And maybe I will read up more on the links between stress and hormones between now and then.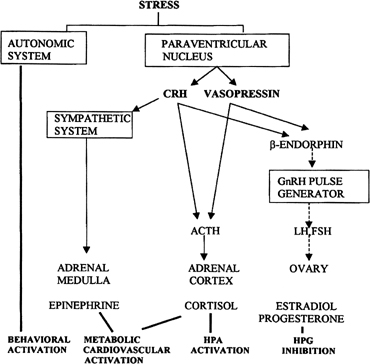 Meanwhile, This Gal needs to get ready for her night shift in the COVID ICU. Stress. Yup. Exhausting emotionally and physically. Yup. My ovaries can probably read the cortisol and adrenaline levels in my blood and there may be another month of AUB ahead as my body instinctively tries to preserve its resources for essential functioning only in these pandemic times. At least I know what to do for it! I also did book an appointment with a new gynecologist to have an expert on board in case I need something like imaging or a more extensive workup. A Doctor cant always heal herself!