As you know, I have been struggling with my biological clock: my age and stress level tick louder than ever. Weighing the cost of motherhood against my career in medicine has never been an equal balance with scales always tipped in the favor of my seemingly insatiable appetite for knowledge. And yet – I've been studying fertility since 2004, seeing fertility docs since 2008, and  froze my eggs in 2013. I am always scheming to figure out "when is a good enough time". Yes, I know there "is never a good time: but as a lesbian with a choice, isnt there a "better time"? And here I am, child free, finally happily coupled, and in my third year of medical school in 2017.
I just completed 6 weeks working with newborns and doing well-baby checks to mostly women under 30 in my first pediatric rotation. I I couldn't help thinking about the definition of evolutionary success as progeny. Many moms I worked with had 4-8 other babies. Some were on opioids, many smoked pot and tobacco or even took buspirone and SSRIs throughout their pregnancy and had sick/addicted babies. Some were very very young. But evolutionarily, each of them had already surpassed me even with my 2.5 degrees, $500k of education,  and diverse, privileged, happy life. I realized I am currently an evolutionary failure.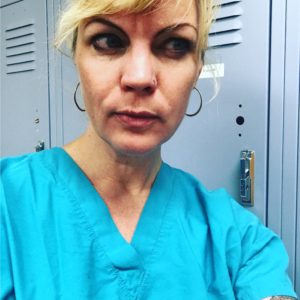 I am an archetype of my Generation X.  I don't have many excuses for child-free living left, having had a bacchanalian and free-spirited 20's and 30's. Is it time for me to "settledown"? Who am I if I choose NOT to have a child of my own?
My primary reasoning for not spawning includes RESPONSIBILITY – towards my career/education and more importantly, to the kid. Who brings a child into the world who is guaranteed a mom who is away from home 12-18 hours a day (unavoidable in medical school -residency)? Where is the evolutionary success in that? Generationally, I do not have the same programming my parents had to marry/reproduce, and as a lesbian it didn't happen by accident. Also, as a kid myself who had a high ACE score, I don't want to perpetrate even a privileged neglect into another generation. So, here I am: struggling with my generational expectation to break the glass ceiling, achieve my highest ambitions, follow my dreams … and shouldering the unspoken price of doing that.
Maybe I could redefine evolutionary success. Not "survival of the species" but survival of the…planet? Conscious eco-systeming? Or maybe even the more complicated redefining of family/familial success – what if evolutionary success was a life well-lived and well-loved, and a small carbon footprint; a kinship network of peers, lovers, and lifelong friends instead? Children no longer live to serve their elder parents, and even if I had a child, I would not be promised a safe and well-cared for death. Still, at the end of the day, even though I have many cousins with beautiful babies carrying on the family line in all directions, my personal lineage of Wright-Larson will not be carried on unless I have a kid. That feels sad. That does feel like failure.
I stand with my aching feet and my scrubs and pager, knowing raising my own babies is not likely going to be the life I get to live this time around.
I have always been an outlier. I chose Naturopathic medical school in the 90s, chose the urban underbelly in the 2000s, and chose osteopathic medical school in the 20-teens.  I'm 92% reconciled that I will enjoy my child-free life and travel to Tokyo, Vatican City, Barcelona, and live in expensive, romantic urban centers. Because I consistently choose career, love and adventure over a baby and domesticity I will be able to live a certain kind of lifestyle. But that doesn't make it easier when I come home smelling like babies from a day at work, or when I see my cousins achingly beautiful creative charming kids. There is no consolation prize for evolutionary failure. Only the small faith that I am making the right choice for the kid I would create and maybe a for this planet, and hopefully for, myself and my love.